The women's national team of Ukraine beat the team of Slovakia for the second time at the foreign practice sessions
24.05.2023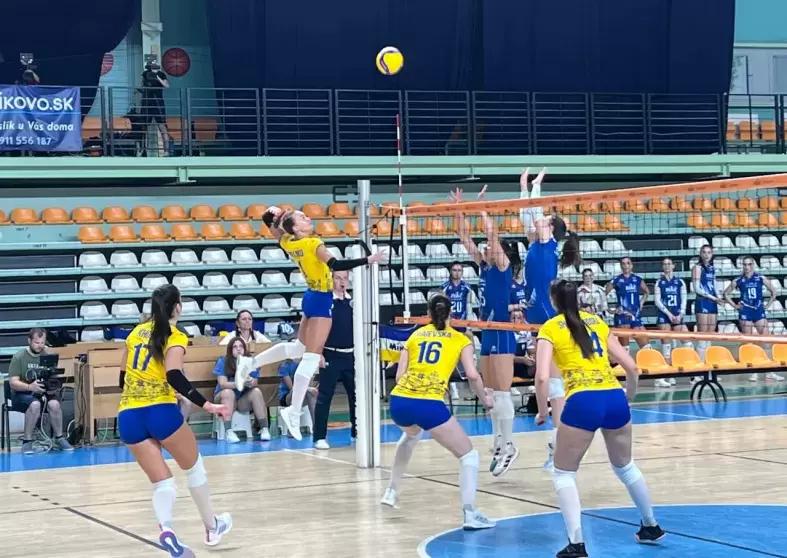 Ivan Petkov's team continued their triumphant march. The second sparring match in Nitra against Slovakia ended with another strong-willed victory of the Ukrainians — 2-3 (17:25, 25:18, 25:14, 20:25, 8:15).
The Slovakian volleyball players, as hosts, started this match more actively — 2:0. But this did not upset our girls. On the contrary, Anastasiia Maievska's ace soon restored parity, and after Oleksandra Milenko's effective block, they took the lead — 4:5.
Blue and yellows dictated their conditions on the court, gradually increasing the gap. At the equator of the set, their advantage was six points — 7:13. Opponents continued to struggle with reception. In addition, they could not adjust the sight in the attack. As a result - 17:25 in favor of Ukrainians.
The Slovakians added to their actions on the block in the second set, but difficulties in reception still arose - 3:6. Then a curious moment happened: the ball from the net landed on our side of the court. After that, the hosts won three more rallies in a row and left Petkov's team in the role of those who catch up - 7:6. Throughout the entire stretch, the Ukrainians tried to equalize the numbers on the scoreboard. However, the courage of the rivals could not be stopped - 25:18.
In the third set, the blue-yellow team had absolutely nothing going for them both in attack and defense. For their part, representatives of Slovakia scored points for every taste- 25:14. The next segment could be the last, but Ivan Petkov did find the right words for his wards after the previous failure. In the end, they gradually seized the initiative. At that moment, Oleksandra Milenko assumed the role of leader. Almost every attack of the player in those minutes ended successfully.
The end of the set turned out to be somewhat sloppy for our athletes, and the Bulgarian specialist even had to take a time-out. However, they still achieved their goal - 20:25. So, as in the previous match, the fans were waiting for a tie-break, where the volleyball players of the national team of Ukraine were once again stronger - 8:15.
Next, the ladies will go to Budapest, where on May 27-28 they will play against Hungary as part of the European Golden League-2023. 
The starting line-up of the National team of Ukraine: Svitlana Dorsman (c), Anastasiia Maievska, Oleksandra Milenko, Anastasiia Kraiduba, Daria Sharhorodska, Krystyna Niemtseva (l). Substitutes: Yuliia Dymar, Viktoriia Oliinyk, Alika Lutsenko (l), Viktoriia Danchak.