VC "Zhytichi-Polissia" won a ticket to the semi-finals of the Super League-Budinvest
10.03.2023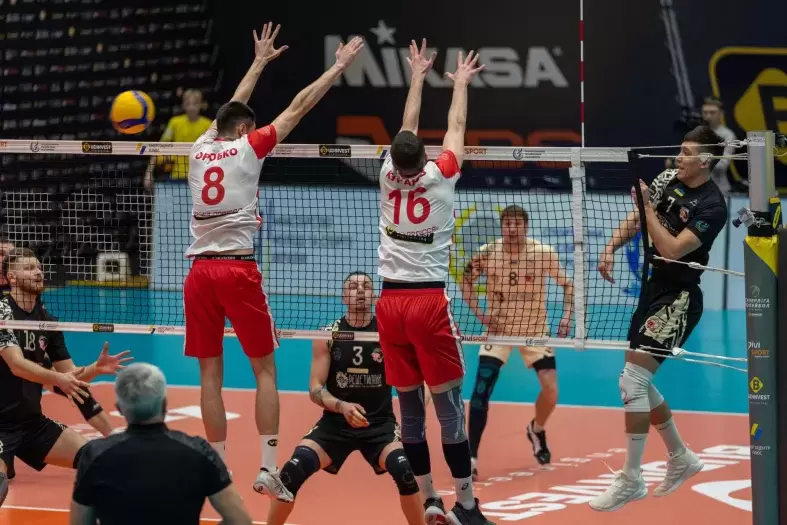 Super League-Budinvest 2022-2023
Playoffs. 1/4 of the final. 3-6 places. The second game
Chernivtsi Arena "PVLU". March 10, 2023
VC "Zhytichi-Polissia" - "The team of the Poltava region. VC Reshetylivka" – 3:0 (25:22, 25:22, 25:20)
The first match was 3:1.
Score in the series: 2-0.
On March 10, VC "Zhytichi-Polissia" from the city of Zhytomyr and "The team of the Poltava region. VC Reshetylivka" held their second meeting in the quarter-final series of the Ukrainian volleyball championship.
The players of Zhytomyr already had a victory in their treasury (3-1) and, apparently, because of this, they started the second match more confidently (6:2). It should be noted that the players of both teams made many mistakes on the serve. However, there are other game elements in volleyball (reception, block, attack), and there "Zhytichi-Polissia" were more skilled– 25:22.
In the second set, Poltava took the lead (11:8), but Zhytomyr is well known for their ability to quickly find a way out of these kinds of situations. This time thanks to effective actions on the block (11:11). A few more successful attacks by Mykola Rudnytskyi, Mykyta Luban, and Vitalii Bondar, and the equal score turned into an advantage of "Zhytychi" in +4 points (18:14). It was not easy to keep it, but Serhii Tereykovsky's team managed to do so – 25:22.
In the third set, the situation with the leader did not change: the players of Zhytomyr confidently went to their victory (8:5). For their part, "Reshetylivka" could not take advantage of their last chance. 25:20 and 3-0 in favor of the volleyball club "Zhytichi-Polissia".
The most productive player was the captain of "Reshetylivka" Nik Sotnyk (12 points).
The MVP prize was awarded to Mykyta Luban, the outside hitter of VC "Zhytichi-Polissya".
Starting line-up of VC "Zhytichi-Polissia": Rudnytskyi (scored 10 points), Bondar (10 points), Luban (10 points), Hubenko (10 points), Kuranov (1 point), Orobko (4 points), Khvasta (l), Kuzmenko (l). Substitutes: Yablonskyi (0 points).
Head coach: Serhii Tereykovskyi.
The starting line-up of the "Team of the Poltava region. VC Reshetylivka": Sotnyk (scored 12 points), Drofa (7 points), Hurshal (5 points), Fedosieiev (9 points), Loitarenko (8 points), Bovsunovskyi (2 points), Ostroumov ( l). Substitutes: Yakovliev (0 points),  Valiaibaba (0 points), Cherniak (0 points), Fudar (1 point).
Head coach: Oleksandr Frolov.
So, VC "Zhytichi-Polissia" enters the semi-finals of the Ukrainian Volleyball Championship and will play there against VC "Prometey".
And "Reshetylivka" will fight for 5-8 places with "Security Police", "National Team of Ukraine U-18" and the "loser" of the pair "Law Academy" - "MHP-Vinnytsia".