"Prometey" defeated "Zhytichi-Polissia" in the first semi-final match
23.03.2023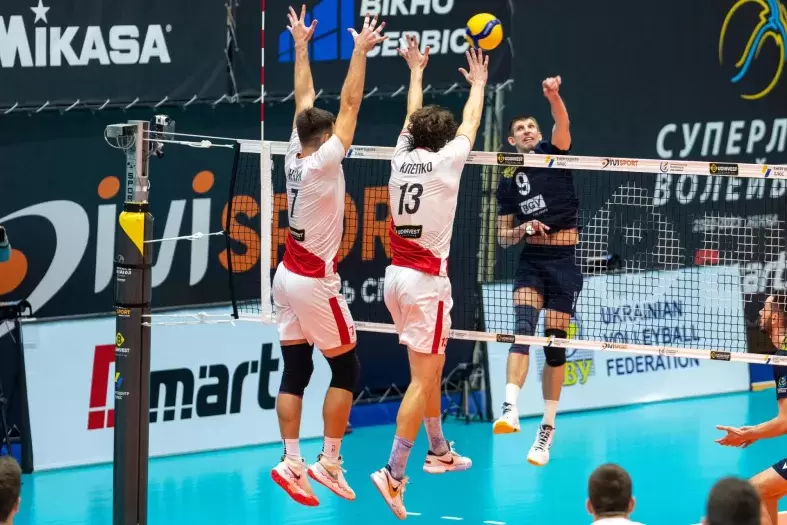 Super League-Budinvest 2022-2023
1\2 of the final. The first game
Chernivtsi Arena "PVLU". March 22, 2023
VC "Prometey" - VC "Zhytichi-Polissia"– 3:0 (25:12, 25:13, 25:17) 
Score in the series: 1-0.
The teams from Zhytomyr VC "Zhytichi-Polissia" and Dnipro VC "Prometey" became the second semi-final pair of the Ukrainian volleyball championship among men's teams of the Super League-Budinvest of the 2022-2023 season.
From the first rallies, volleyball players from Dnipro dominated this match (13:3). At first, the players of Zhytomyr could do nothing with the serves of Heorhii Klepko (2 aces), and then with the attacks of Ian Yereshchenko (5 points) and Dmytro Yanchuk (5 points), who were perfectly assisted by the setter Vitalii Shchytkov - 25:12. 
The second set was similar to the first: leadership belonged to the team of Andrii Levchenko (11:5). On the other hand, "Zhytychi" could not cope with reception, attacks, or blocks. Serhii Tereykovsky's team also lacked traditional emotions, which in most cases brings them success. In the end, Dnipro won another set with a big margin of 25:13.
The long break did not make any drastic changes in the course of the match. Zhytomyr volleyball players tried to match the pace of game with the Dnipro team (4:4), but they did not succeed for a long (12:6). "Prometey" players did not want to stay on the court for long and quickly finished the set with a score of 25:17. 
The player of Prometey - Dmytro Yanchuk (17 points) - was the most productive player of the match. He received the MVP award.
Starting line-up of VC "Prometey": Shchytkov (scored 5 points), Shapoval (6 points), Yanchuk (17 points), Klepko (11 points), Gladenko (6 points), Yereshchenko (12 points), Boiko (l), Patratii (l). Substitutes: Riabov (0 points), Shteryk (0 points).
Head coach: Andrii Levchenko.
Starting line-up of VC "Zhytichi-Polissia": Rudnytskyi (scored 5 points), Bondar (5 points), Luban (2 points), Hubenko (4 points), Kuranov (1 point), Orobko (2 points), Khvasta (l) , Kuzmenko (l). Substitutes: Shavrak (1 point), Yablonskyi (0 points).
Head coach: Serhii Tereykovskyi. 
We would like to remind you that the semi-final series lasts until two victories. Therefore, the return match will take place on Friday, March 24 at 19:00. "Prometey" will have a chance to reserve a place in the final, and "Zhytichi-Polissia" will try to live up to the hopes of their fans and stay in the fight for the final!