"MHP-Vinnytsia" took revenge on "Law Academy" and tied the score in the quarter-final series of the Super League-Budinvest
11.03.2023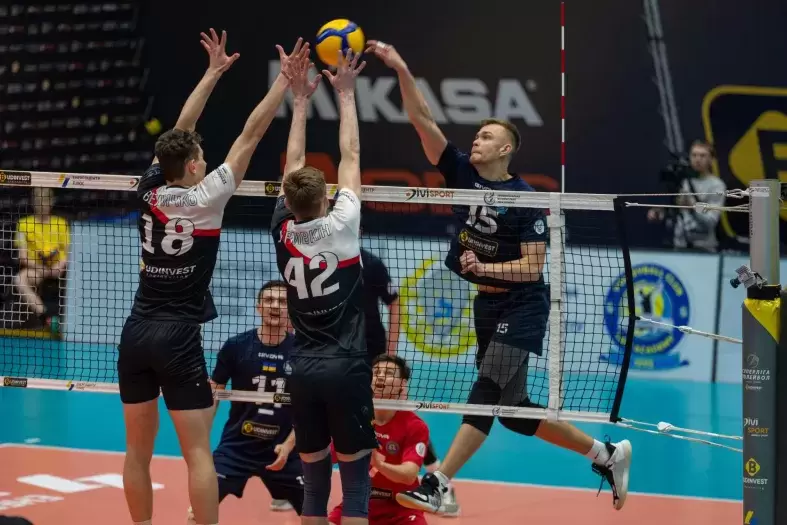 Super League-Budinvest 2022-2023
Playoffs. 1/4 of the final. 4-5 places. The second game
Chernivtsi Arena "PVLU". March 10, 2023
VC "MHP-Vinnytsia-ShVSM" - VSC "Law Academy" – 3:1 (16:25, 25:20, 25:21, 29:27) 
The first match – 0:3.
Score in the series: 1-1.
On Friday, the last pair of quarter-finalists of the Ukrainian volleyball championship among the men's teams of the Super League-Budinvest of the 2022-2023 season met on the court. The fourth and fifth teams based on the results of the regular season - VC "MHP-Vinnytsia-ShVSM" and VSC "Law Academy".
The Kharkiv team won the first game (3:0), so the team from Vinnytsia desperately needed to beat their opponent by any score in order to stay in the fight for the semi-finals.
The start of the match was for the "lawyers": they demonstrated an excellent game on the block (6 blocks) and knocked the opponent out of the reception with their powerful serve (4 aces) - 25:16.
The second game proceeded in a more or less equal struggle (12:12). At some point, the MHP players were able to control their excitement and took advantage (16:13). However, the players of Kharkiv, led by captain Vitalii Sukhinin, did not want to give up - the attacker "shot" with his powerful serve and as a result served 2 more aces (18:20). However, Vinnytsia managed to withstand the onslaught of the opponents and equalize the score in sets - 25:20.
After a long break, the team of Vinnytsia, charged with the success of the previous set, continued to attack effectively (8:4 – 16:12). Two aces of the opposite of the "lawyers" Viktor Shapoval reduced the gap (14:16). But this was not enough. Kostiantyn Riabukha's players caught the courage and as the result, won the second set in a row - 25:21.
The courage of the players of Vinnytsia could not be stopped, and in the next episode they again dominated the court of the "PVLU" arena (15:11 - 23:19). It seemed that victory was in their pocket, but the Kharkiv team continued to fight (25:25). As a result, "MHP" managed to achieve their revenge - 29:27 and 3-1.
The most effective players were Danylo Uryvkin and Viktor Shapoval, the opposites from both teams. They scored 20 points each.
Danylo Uryvkin received the MVP award.
Starting line-up of VC "MHP-Vinnytsia-ShVSM": Stebletskyi (scored 7 points), Mishchenko (16 points), Ratushniak (11 points), Velychko (5 points), Uryvkin (20 points), Tatarenko (9 points), Pampushko (l). Substitutes: Ivashchenko (0 points), Lukianets (0 points).
Head coach: Kostiantyn Riabukha.
Starting line-up of VSC "Law Academy": Arbuzov (scored 11 points), Sukhinin (14 points), Antonenko (8 points), Shapoval (20 points), Polishchuk (2 points), Plotnik (5 points), Perekhodniuk (l). Substitutes: Dehtyar (1 point), Antoniuk (6 points).
Head coach: Serhii Kovalenko.
On Sunday at 13:00, the teams will play a decisive match for a ticket to the semi-finals.