"Epicenter-Podolyany" won the first victory in the semi-final series of the Super League-Budinvest
22.03.2023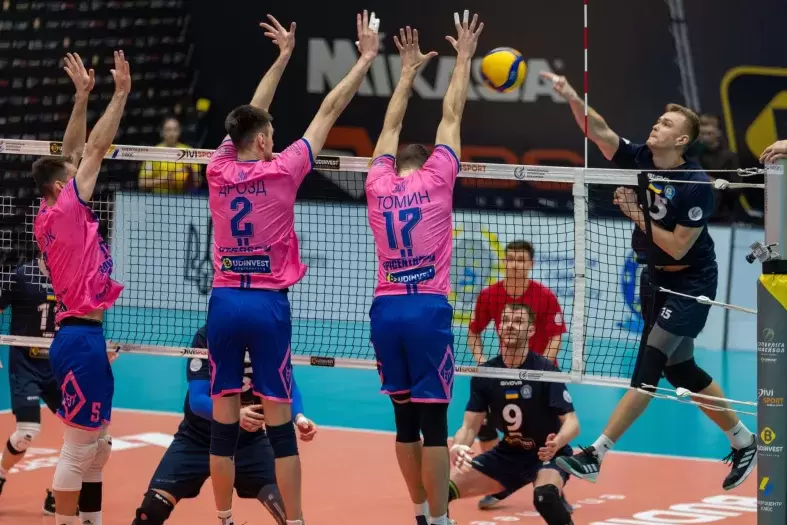 Super League-Budinvest 2022-2023
1\2 of the final. The first game
Chernivtsi Arena "PVLU". March 21, 2023
"Epicenter-Podolyany" - VSC "Law Academy" – 3:0 (26:24, 25:22, 25:13)
Score in the series: 1-0.
The representatives of Horodok and Kharkiv went to start the semi-final series of matches of the championship of Ukraine of men's volleyball teams of Super League-Budinvest 2022-2023. 
On the eve of the first semi-final match, the Croatian opposite of "Epicenter-Podolyany" Ivan Reich suffered an unfortunate injury during the practice. Yurii Tomin replaced him on the court. The opposite of "Law Academy" Viktor Shapoval also started having some problems with his shoulder. Vitalii Sukhinin, captain of the Kharkiv team, took this place in his usual role.
The start of the match was very even: the teams played without taking risks and quite cautiously (10:10 - 24:24). Every rally was important, and every subsequent mistake could be fatal. In the end, the Kharkiv players were the first to take it: the Bulgarian attacker of the Podoliyany Nikolai Penchev effectively completed the attack, and then an error in the transfer was made by the experienced player of the "lawyers" Ihor Antoniuk - 26:24. 
In the next set, despite the pain in his shoulder, Viktor Shapoval appeared on the court of the "PVLU" arena. However, there were no special changes in the game of te "Law Academy". The score was equal (7:7), but then the "bisons" arranged a real benefit on the block and gained a double advantage (14:7). Serhii Kovalenko's team tried to catch up with their opponent, but it didn't work out. 25:22 and 2:0 for "Epicenter-Podolyany". 
In the third set, Mariusz Sordyl's team immediately broke away from the opponent (10:5 - 16:8). The last part of the set was under complete control of the Podolyany: aces, blocks, good game in defense. All this together brought a victorious third set and the first victory in the semi-final series – 25:13 and 3:0.
The most productive player was Yevhenii Kisiliuk (17 points) the outside hitter of Epicenter-Podolyany.
The MVP prize was awarded to the opposite of "Bisons" Yurii Tomin (13 points).
Starting line-up of VC "Epicenter-Podolyany": Kisiliuk (scored 17 points), Penchev (8 points), Didenko (1 point), Ostapenko (6 points), Tomin (13 points), Drozd (8 points), Brova (l) , Fomin (l). Substitutes: Nalozhnyi (0 points).
Head coach: Mariusz Sordyl.
Starting line-up of VSC "Law Academy": Arbuzov (scored 5 points), Sukhinin (10 points), Antonenko (4 points), Antoniuk (5 points), Polishchuk (1 point), Plotnik (6 points), Perekhodniuk (l). Substitutes: Stepovyi (0 points), Dehtiar (0 points), Shapoval (5 points).
Head coach: Serhii Kovalenko.
On Thursday, March 23, at 19:00, the Epicenter-Podolyany volleyball players will try to get a ticket to the finals, while Law Academy will try to take advantage of the last chance to continue the semifinal series of the Super League-Budinvest.