SC "Prometey" defeated "Alanta" in the first game of the 1/2 final of the Super League-Dmart
16.03.2023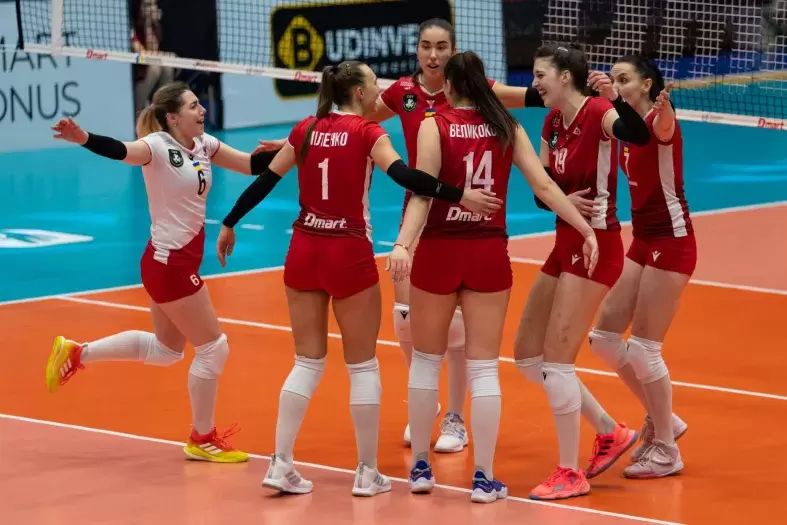 Women's Super League-Dmart 2022/23
1/2 finals. 2 match
Chernivtsi Arena "PVLU". March 15, 2023
"Alanta" — SC "Prometey" 0-3 (25:27, 16:25, 17:25)
The reigning champion of Ukraine triumphed over the players from Dnipro in the first semi-final match of the national championship. "Prometey" needed only three sets to win and take the lead in the series.
The teams started the game quite actively and immediately exchanged points - 3:3. Both sides at the start paid special attention to actions above the net, so the rallies turned out to be bright and long-lasting. In those minutes, the "red and whites" made a lot of mistakes in the final stage of the attacks, thereby giving the opponents the opportunity to take the lead - 7:4, 9:7. 
The leadership of the players of "Alanta" turned out to be short-lived: an accurate shot by Viktoriia Danchak equalized the numbers on the scoreboard. Next, the "more-or-less" game went on the court, which once again led to a three-point lead for the Dnipro club - 15:12. Denys Zui took advantage of the time-out, after which the Kamianske team reduced the gap to a minimum — 16:15.
Towards the end of the set, "Prometey" improved reception and offensive play, due to which they soon earned three set balls - 21:24. However, Gariy Yeghiazarov's team did not give up and continued to fight. In the end, fate rewarded them with a set ball in return - 25:24. It was the time for the reigning champions to show their strong-willed qualities. They fought back and pressed their rivals — 25:27.
Simple mistakes of the volleyball players of "Alanta" in the first half of the second set led to a spurt of the "red and whites" - 4:8. The Dnipro team was no longer so agile on the block, which the opponents took full advantage of. In particular, after Danchak's block-out, her team's advantage became double — 6:12. "Prometey" continued to have the initiative throughout the set, where fast and combination play became the key to its success - 16:25.
The Dnipro club was by no means going to capitulate. On the contrary, previous failures made them somewhat angry - 3:1. However, the Kamianske players managed to quickly cool down this ardor of the opponents and turned the course of the confrontation in their favor - 7:13. Then their dominance was already indisputable — 17:25.
"Alanta": Luchko (8), Parfionova (1), Silchenkova (9), Protsenko (7), Lozinska (3), Kaminska (4), Lutsenko (l) — starting line-up; Dzendzelovska (1) — was a substitute.
SC "Prometey": Danchak (19), Maievska (3), Milenko (15), Velykokon (5), Khober (8), Dorsman (6), Niemtseva (l) — starting line-up; Karasiova - was a substitute.