SC "Prometey" is the champion of Ukraine for the 2022/23 season
07.04.2023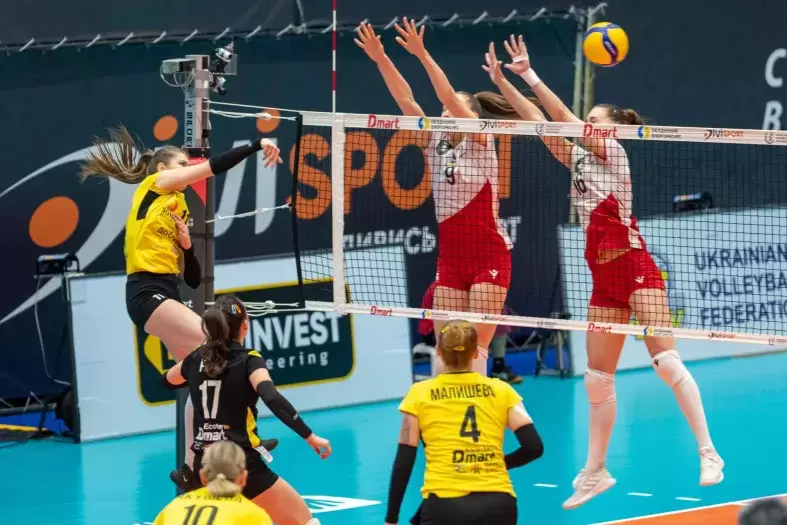 Women's Super League-Dmart 2022/23
Final. The score in the series is 0-3
Chernivtsi Arena "PVLU". April 7, 2023
VC "Dobrodiy-Meduniversitet-ShVSM" — SC "Prometey" 0-3 (22:25, 13:25, 14:25)
SC "Prometey" defended the title of champion of Ukraine. Ivan Petkov's team played the third final match against "Dobrodiy-Meduniversitet-ShVSM" in one breath and won a well-deserved victory.
The match started with the ace of Dariia Kovalchuk. The team from Vinnytsia confidently held this minimal advantage, but the "red and whites" did not let their opponents go either - 5:5. Later, after a mistake by Maryna Dehtiarova in the attack, the Kamianske team took the lead for the first time - 7:8. Their opponents tried to fight back, but the reigning champions, as they say, already scented the "smell of victory". Soon their advantage reached four points — 10:14.
Yuliia Yakusheva's team managed to stabilize the situation on the playground with morale and willpower. And after a tight shot by Kovalchuk, a productive block, and the successful actions of captain Valeriia Yakusheva, who at that moment also scored an ace, "Dobrodiy" turned everything upside down - 22:20. Ivan Petkov's two time-outs did their job, as his team finished the set with a confident spurt — 22:25.
The beginning of the second set was also equal - 3:3. However, with each new rally, the "red and whites" added in all game elements, which reflected the scoreboard - 7:12. Representatives of Vinnytsia were almost not inferior to their opponents in speed, but they made mistakes more often in casual situations — 10:16. From here, "Prometey" continued confidently to their next victory - 13:25.
After a long break between sets, Petkov's team did not postpone the matter for a long time and immediately organized a breakthrough - 1:4. It seemed that the players of "Dobrodia" had already given up, although they may well bring the end of this set into their treasury - 14:25.
"Dobrodiy-Meduniversitet-ShVSM": Yakusheva (k), Dehtiarova, Kucher, Zavala, Malysheva, Kovalchuk, Rotar (l) — starting line-up; Kalanchuk, Tantserova, Vabishchevych, Kryva, Lyzanets — were substitutes.
SC "Prometey": Maievska, Milenko, Sharhorodska, Artyshuk, Khober, Dorsman (k), Niemtseva (l) — starting line-up; Karasiova - was a substitute.