Results of matches of the 8th round of Super League-Budinvest + tournament table
08.02.2023
From January 31 to February 5, 2023, matches of the VIII round of the Men's Super League-Budinvest 2022-2023 took place in Chernivtsi.
There were no significant changes in the standings. The leader of the current season remains the team from the Horodok - "Epicenter-Podolyany". The second step continues to be occupied by VC "Prometey", and the top three is closed by VC "MHP-Vinnytsia-ShVSM".
Next, there were two teams that spent this tour rather unstable: Kharkiv "Law Academy" (9 wins and 28 points) and Zhytomyr club "Zhytichi-Polyssia" (9 wins and 27 points).
Next comes the trio of outsiders "Reshetylivka" (5 wins and 14 points), "Security Police" (4 wins and 12 points), and "Barkom-National Team of Ukraine U-18" (3 wins and 11 points).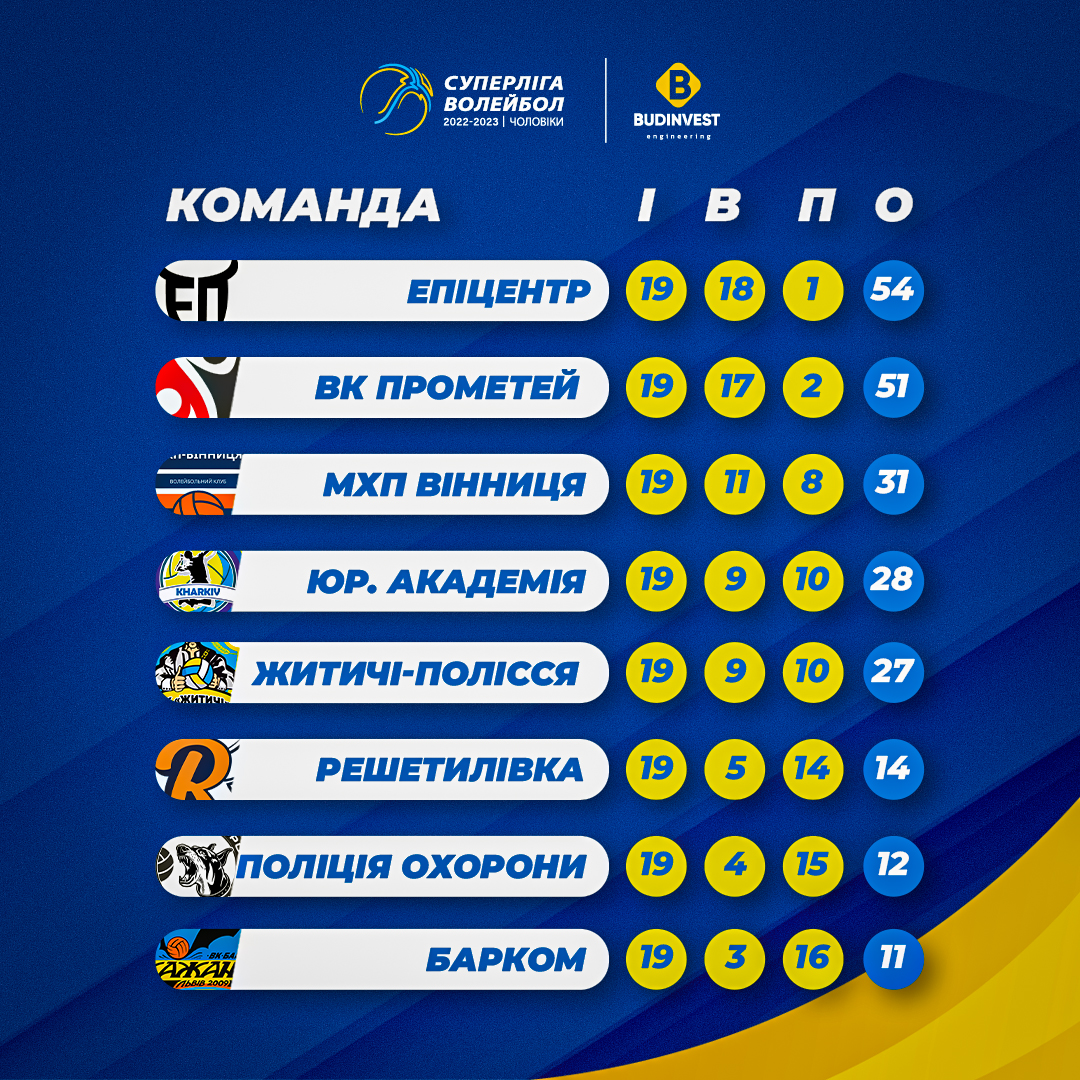 The teams have another round of the regular championship ahead of them. It will take place from February 16 to 19, 2023.
Results of matches of the VIII round of the Super League-Budinvest season 2022-2023
January 31 (Tuesday)
VSC "Law Academy" - "The team of the Poltava region. VC Reshetylivka" – 2:3 (25:13, 17:25, 25:17, 29:31, 11:15)
VC "Prometey" - VC "Zhytichi-Polyssia" – 3:1 (18:25, 25:21, 25:22, 25:20)
February 1 (Wednesday)
"Epicenter-Podolyany" - "Barkom-National Team of Ukraine U-18" – 3:0 (25:18, 25:19, 25:15)
"Security Police-ZUNU-Dynamo" - VC "MHP-Vinnytsia-ShVSM" – 1:3 (22:25, 17:25, 25:17, 16:25)
February 2 (Thursday)
VC "Zhytichi-Polyssia" – "The team of the Poltava region. VC Reshetylivka" – 3:0 (25:14, 25:21, 25:18)
VC "Prometey" – VSC "Law Academy" – 3:1 (25:21, 26:28, 25:19, 25:19)
February 3 (Friday)
"Barkom-National Team of Ukraine U-18" – VC "MHP-Vinnytsia-ShVSM" – 1:3 (18:25, 21:25, 25:23, 18:25)
"Epicenter-Podolyany" – "Security Police-ZUNU-Dynamo" – 3:0 (25:21, 25:16, 25:15)
February 4 (Saturday)
"The team of the Poltava region. VC Reshetylivka" (Reshetylivka) – VC "Prometey" (Dnipro) – 0:3 (25:27, 17:25, 20:25)
VSC "Law Academy" (Kharkiv) – VC "Zhytichi-Polyssia" (Zhytomyr) – 3:0 (30:28, 25:19, 25:22)
February 5 (Sunday)
VC "MHP-Vinnytsia-ShVSM" (Trosianets) – "Epicenter-Podolyany" (Horodok) – 1:3 (16:25, 18:25, 25:18, 19:25)
"Security Police-ZUNU-Dynamo" (Ternopil) – "Barkom-National Team of Ukraine U-18" (Lviv) – 3:2 (23:25, 25:21, 27:25, 13:25, 15:11)