"Prometey" reached the finals of the Super League Budinvest 2022-2023
25.03.2023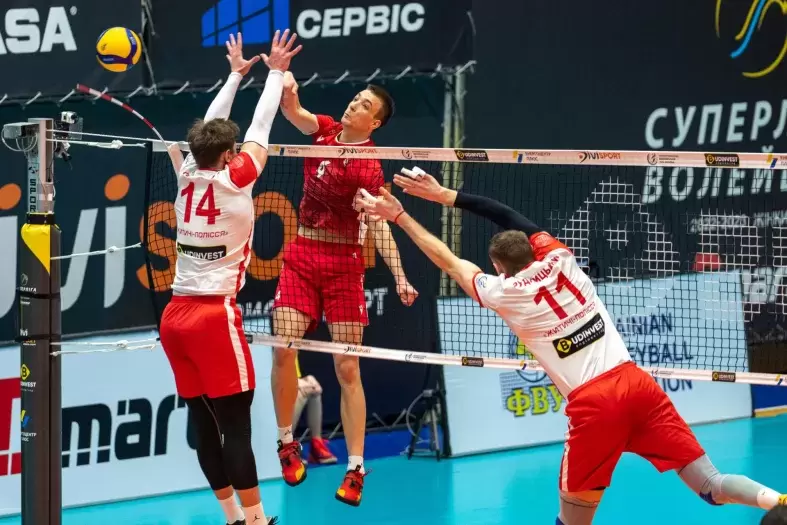 Super League-Budinvest 2022-2023
1\2 of the final. The second game
Chernivtsi Arena "PVLU". March 24, 2023
VC "Zhytichi-Polissia" - VC "Prometey" – 0:3 (21:25, 15:25, 27:29)
Score in the series: 0-2.
On March 24, VC "Prometey" and VC "Zhytichi-Polissia" met again in the fight for the dream final of the Ukrainian volleyball championship.
The beginning of the second semi-final match was not as easy for "Prometey" as in the last match. "Zhytychi" tried not to give in to the opponent and responded with no less powerful attacks (16:16). The Dnipro players managed to make the difference in the score thanks to the accurate attack by Ian Yereshchenko and the ace by Vitalii Shchytkov (18:16). The end of the set was for the team in red - 25:21. 
In the second set, the players of Zhytomyr were not doing good from the very beginning (0:3 – 4:7 – 7:10). These +3 were as if enchanted for "Zhytychy" because they could not reach them out in any way. Instead, Andrii Levchenko's team did absolutely everything to not just keep the advantage, but also increase it - 25:15.
After a long break, Zhytomyr volleyball players, who know how to find strength in almost any situation, managed to find it here as well (15:15). At the right moment, "Prometey" used its powerful block (18:15). But this time "Zhytychi" held on and persistently went to their victory in this set (20:18). However, the concentration and thirst for an "easy" victory of the Dnipro club were much stronger - 29:27 and 3:0 as a result!
The most effective player was Ian Yereshchenko (15 points), the outside hitter of "Prometey". He received the MVP award.
Starting line-up of VC "Zhytichi-Polissia": Rudnytskyi (scored 8 points), Bondar (9 points), Luban (5 points), Hubenko (5 points), Kuranov (2 points), Orobko (2 points), Khvasta (l), Kuzmenko (l). Substituted: Haidarenko (0 points), Onipko (4 points), Yablonskyi (0 points).
Head coach: Serhii Tereykovskyi.
Starting line-up of VC "Prometey": Shchytkov (scored 5 points), Shapoval (10 points), Yanchuk (11 points), Klepko (10 points), Gladenko (6 points), Yereshchenko (15 points), Boiko (l), Patratii (l). Substitutes: Oleksiuk (0 points), Riabov (0 points).
Head coach: Andrii Levchenko.
In the final matches, VC "Prometey" will play against the team from Horodok "Epicenter-Podolyany". And "Zhytichi-Polissia" will fight for the bronze awards of the Super League-Budinvest 2022-2023. The series of matches for medals will last until three victories. The date and time of the matches will be announced a little later.