Match results and tournament table after the 8th round of the Super League-Dmart
30.01.2023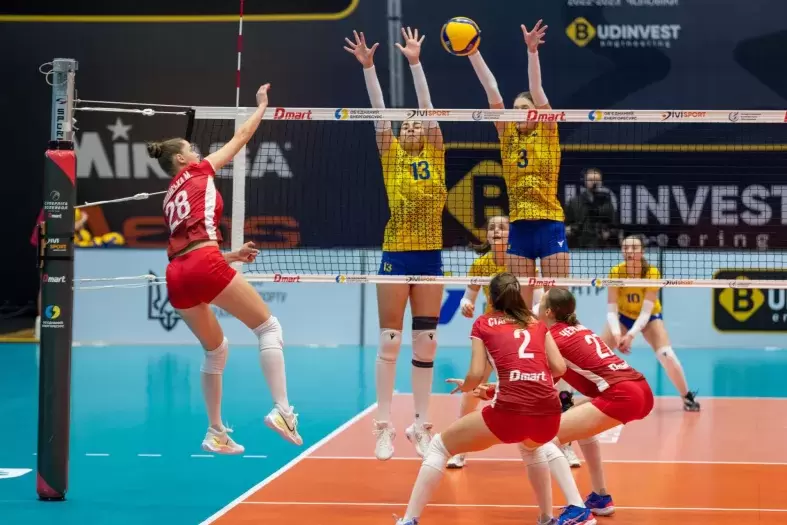 From January 25 to 29, matches of the 8th round of the women's Super League-Dmart of the 2022/23 season took place at the "PVLU" Arena. Looking ahead, we note that this time there were no loud sensations, but some of the teams were very close to it.
In particular, the U-17 national team of Ukraine led 2-0 during the match against "Prometey", but did not hold the advantage. In total, in the reporting round, Volodymyr Podkopaev's team suffered three defeats, two of which were on the tie-breaks. The earned two points helped them secure the fifth position in the tournament table. After all, their closest pursuers, Ternopil, scored only one point.
It is also worth noting the first victory of the national team Ukraine U-15 this season. Anastasiia Kotlyarenko's team just triumphed in the blue-yellow derby. However, they are still far from leaving the last rung.
As for the first quartet, we can state that the leader of the championship has changed. Currently, it is "Alanta". Dnipro beat "Prometey" and both national teams with "dry" numbers on the scoreboard. However, "Dobrodiy-Meduniversitet-ShVSM" did not lose points either. And such a disturbance is related to the competition calendar because the team from Vinnytsia played one game less. "Prometey" and "Balta" remained in the third and fourth places, respectively.
Match results:
January 25
"Alanta" — National Team of Ukraine U-17 3-0 (25:12, 25:11, 25:9)
SC "Prometey" — National team of Ukraine U-15 3-0 (25:14, 25:13, 25:22)
January 26
"Dobrodiy-Meduniversitet-ShVSM" — SK "Balta" 3-0 (25:18, 25:8, 25:22)
January 27
National team of Ukraine U-15 — National team of Ukraine U-17 3-2 (25:23, 25:19, 17:25, 17:25, 15:13)
SC "Prometey" — "Alanta" 0-3 (23:25, 14:25, 20:25)
January 28
SC "Balta" — "Halychanka-ZUNU" 3-2 (22:25, 25:21, 17:25, 25:21, 15:13)
"Alanta" - National team of Ukraine U-15 3-0 (25:17, 25:15, 25:18)
January 29
"Dobrodiy-Meduniversitet-ShVSM" — "Halychanka-ZUNU" 3-0 (25:17, 25:18, 25:9)
National team of Ukraine U-17 — SC "Prometey" 2-3 (27:25, 32:30, 23:25, 4:25, 11:15)
Tournament table: