For the first time in its history, "Alanta" won the bronze medals of the championship of Ukraine
07.04.2023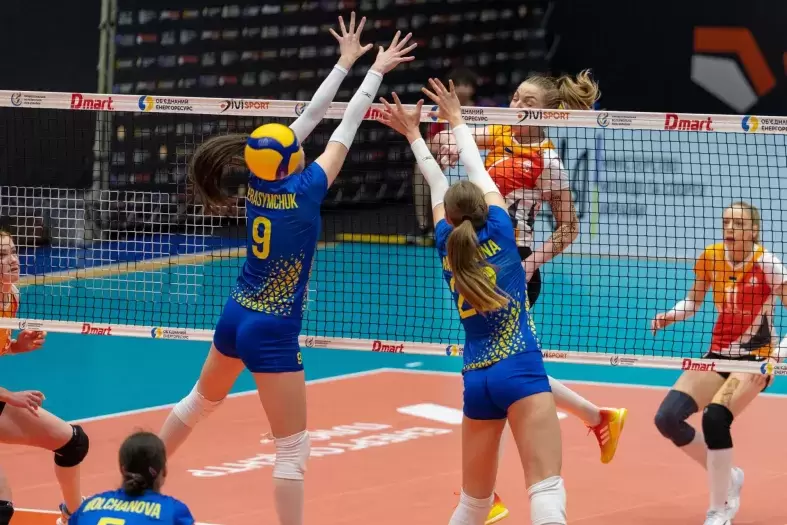 Women's Super League-Dmart 2022/23
The third match for "bronze"
Chernivtsi Arena "PVLU". April 7, 2023
"Alanta" — National team of Ukraine U-17 3-0 (25:14, 25:12, 25:13)
The Dnipro team defeated the U-17 National team for the third time in a row in the series for third place of the Super League-Dmart in the season 2022/23. This success allowed them to win their first awards in the history of the elite division of the championship of Ukraine.
At the start of the match, the blue-yellow team made a lot of mistakes, in particular in reception, due to which their opponents immediately led the score - 7:2. Volodymyr Podkopaiev took a time-out, during which he tried to encourage his team. But it was equally impossible to resist the well-coordinated game of "Alanta". The players of this team brilliantly placed the ball in any free zone. In addition, they strengthened this success with aces and organized actions on the block - 25:14.
In the second set, the players from Dnipro lost some momentum, allowing their opponents to taste the leadership — 3:4. However, the national team did not rejoice for long, because they could not develop their spurt. Once again, their poor reception game caught the eye and, as a result, Gariy Yeghiazarov's team was regularly marked by powerful serves — 10:6. In the end, the blue-yellow team scored even fewer points than in the previous set - 25:12.
The third set was the final in this meeting. It followed the same scenario as the previous two. Volleyball players of the national team of Ukraine U-17, among other things, also had to fight with themselves, or rather, with problems in all game elements. As a result, the total score of the set is 25:13.
"Alanta": Kaminska, Protsenko, Lozinska, Luchko (k), Parfonova, Silchenkova, Lutsenko (l) — starting line-up; Dzendzelovska, Bukatseli, Huzhva, Dorohan — were substitutes.
The national team of Ukraine U-17: Heiko, Kravchenko, Herasymchuk, Starostenko, Tverda (k), Hrytsyk, Drapak (l) — starting line-up; Molchanova, Nakoskina, Makarova, Nedilko — were substitutes.