"Epicenter-Podolyany" defeated "MHP-Vinnytsia" and strengthened their leadership in the Super League-Budinvest
08.02.2023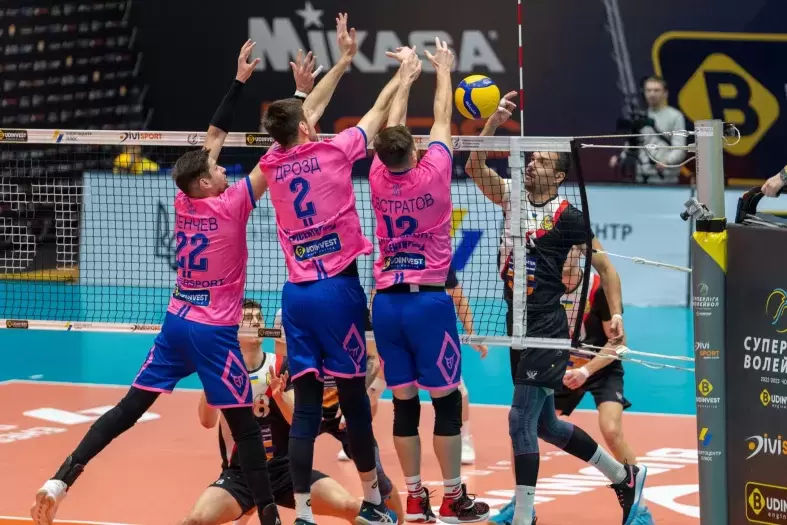 Men's Super League-Budinvest 2022-2023
VIII round. 11th match
Chernivtsi Arena "PVLU". February 5, 2023
VC "MHP-Vinnytsia-ShVSM" (Trostianets) - "Epicenter-Podolyany" (Horodok) – 1:3 (16:25, 18:25, 25:18, 19:25)
The match, which aroused great interest among fans of domestic volleyball, because the leader of the current championship of Ukraine "Epicenter-Podolyany" (Horodok), and the team that closes the top 3 VC "MHP-Vinnytsia-ShVSM" (Trostianets) met on the court of the "PVLU" arena.
Everyone was expecting an interesting fight, but in the first set, it didn't happen. The legionnaires of "Epicenter" Bulgarian Nikolay Penchev and Croatian Ivan Reich, to whom setter Serhii Yevstratov addressed the largest number of passes, coped with their task 100%. The double advantage from the start (6:3 – 14:8) was difficult to win back. 25:16 and 1-0 in favor of the formidable "bisons".
Later, "Epicenter" did not stop, but only strengthened its leadership. The club from Vinnytsia had several more or less successful rallies, but they could not get close to the opponent. 25:18 and another set for Podolyany.
The traditional 10-minute break slightly changed the mood of the teams: Kostiantyn Riabukha found the right words for the players to motivate them for continuing the fight. Viktor Ivashchenko, another setter, also appeared on the court. Danylo Uryvkin organized the +3 lead with his powerful serve (6:3). The players of "Epicenter" did not expect such resistance and gave away the set, scoring only 18 points.  
The fourth set began with a series of own mistakes of the Vinnytsia team (1:4), but they were not disappointed by such a gap, on the contrary, it motivated them even more (9:9). But on the other side of the court there was an opponent higher in class - these are the volleyball players from Horodok and they demonstrated it in the middle of the set (15:10). Such a margin for the "bisons" was enough to calmly finish the set - 25:19 and the game 3:1.
The best sniper today was the Croatian legionnaire of "Epicenter" Ivan Reich (21 points).
The MVP (most valuable player) award went to another legionnaire of Epicenter - Bulgarian Nikolai Penchev.
Starting line-up of VC "MHP-Vinnytsia-ShVSM": Stebletskyi (scored 1 point), Mishchenko (13 points), Osypenko (6 points), Velychko (9 points), Uryvkin (16 points), Tatarenko (8 points), Pampushko ( l). The substitutes were: Yakushenko (5 points), and Ivashchenko (1 point).
Head coach: Kostiantyn Riabukha.
Starting line-up of VC "Epicenter-Podolyany": Sydorenko (scored 4 points), Penchev (18 points), Yevstratov (2 points), Ostapenko (3 points), Reich (21 points), Drozd (12 points), Brova (l), Fomin (l). The substitutes were: Nalozhnyi (2 points), Tomyn (1 point), and Didenko (0 points).
Head coach: Mariusz Sordyl.
"Epicenter-Podolyany" remains on the first step of the tournament table (18 wins and 54 points), and VC "MHP-Vinnytsia-ShVSM" (11 wins and 31 points) closes the top three of the Super League-Budinvest standings.