"Dobrodiy-Meduniversitet-ShVSM" took the first step to the final of the Super League-Dmart
14.03.2023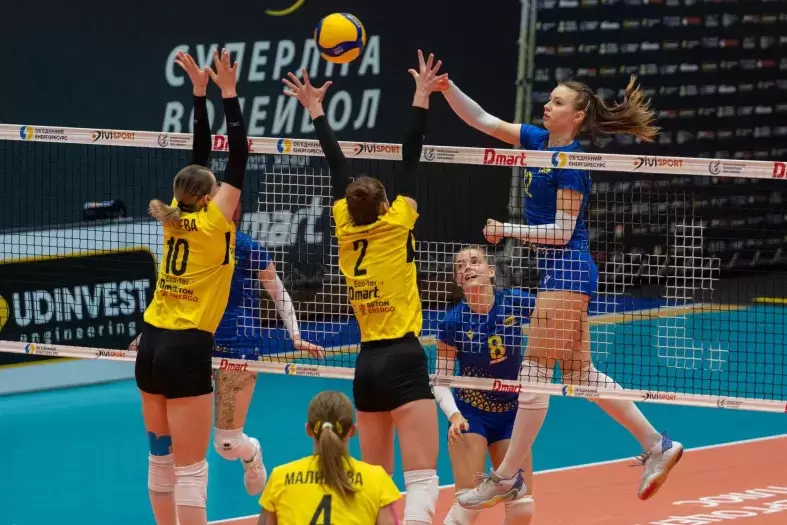 Women's Super League-Dmart 2022/23
1/2 finals. 1 match
Chernivtsi Arena "PVLU". March 14, 2023
"Dobrodiy-Meduniversitet-ShVSM" — National Team of Ukraine U-17 3-1 (25:18, 23:25, 25:14, 25:12)
Fans of domestic volleyball waited with great impatience for the match between "Dobrodiy" and the national team of Ukraine U-17. After all, the winner of the "regular championship" met with a team that is currently at the peak of its form.
One of the main intrigues of the confrontation was the condition of the players from Vinnytsia after a one-month break from official games. The first minutes of the set were indicative when these players made a 5-0 run. For their part, the blue and yellow looked confused at the start of the meeting. However, with each new rally, they made fewer and fewer mistakes, which helped stabilize the situation on the court — 10:7, 14:11.
At the equator of the set, the middle blocker of the national team, Kristina Starostenko, assumed the role of leader. It was not easy for the "Dobrodiy" defense to cope with her attacks today. Instead, there was someone to answer on the other side of the net. And soon Anastasiia Kucher's ace put an end to this segment - 25:18.
The beginning of the second set was even - 5:5. Volodymyr Podkopaiev's team made certain conclusions and began to act more carefully on the block. Apparently, due to more experience, the team from Vinnytsia was able to secure a comfortable handicap of 9:6. Despite this, the blue-yellow team continued to impose a decent fight, which encouraged their opponents to make mistakes more often - 17:16.
Veronika Peknych, coming in as a substitute, served an ace and leveled parity - 19:19. Soon, the attack with the first pace of the already mentioned Kristina Starostenko brought her team ahead — 22:23. A few rallies later, a similar shot by the same blocker led to the national team's triumph — 23:25.  
There was a lot of lack of service from both teams in the third set. There was no way the girls could adjust their sights, which somewhat slowed down the pace of the meeting. At a certain moment, the middle blocker of "Dobrodiy" Kateryna Frolova took courage: the player dominated the net and made a significant contribution to the spurt of her team. As a result, it became decisive in this segment - 25:14.  
In the fourth set, Yuliia Yakusheva's players were already in full possession of the initiative. The mentor found the right words for her volleyball players so that they would not relax and lose concentration. What the players from Vinnytsia did perfectly - 25:12.
"Dobrodiy-Meduniversitet-ShVSM": Kovalchuk (8), Kucher (10), Dehtiarova (8), Yakusheva (23), Malysheva (4), Frolova (13), Rotar (l) — starting line-up; Kryva (1), Zavala, Kalanchuk, Vabishchevych, Lyzanets — were substitutes.
The national team of Ukraine U-17: Heiko (4), Tverda (2), Herasymchuk (3), Hrytsyk (8), Starostenko (13), Kravchenko (12), Drapak (l) — starting line-up; Zharkova (1), Nedilko, Molchanova, Makarova (7), Peknych (1) — were substitutes.