"Dobrodiy-Meduniversitet-ShVSM" for the third time in the Super League-Dmart beat "Halychanka-ZUNU"
31.01.2023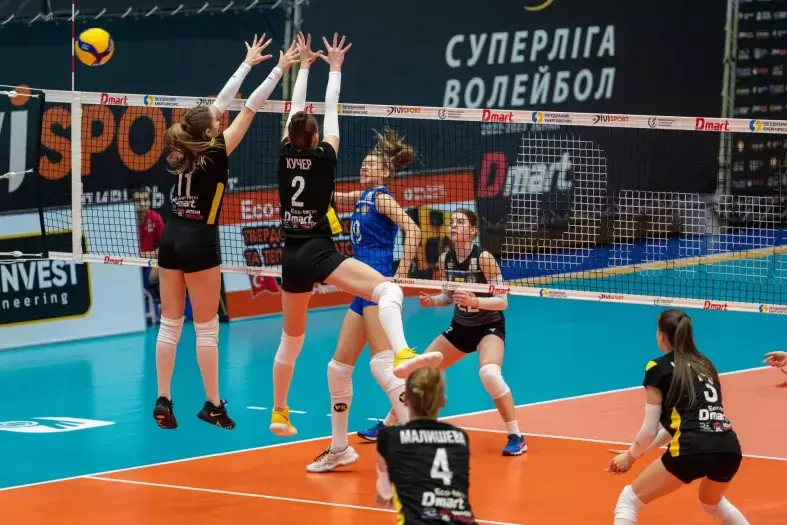 Women's Super League-Dmart
8th round. 8 match.
Chernivtsi. "PVLU" Arena. January 29.
VC "Dobrodiy-Meduniversitet-ShVSM" - "Halychanka-ZUNU" - 3:0 (25:17, 25:18, 25:9).
VC "Dobrodiy-Meduniversitet-ShVSM": Dariia Kovalchuk (10 points), Anastasiia Kucher (13), Maryna Dehtiarova (3), Valeriia Yakusheva (14), Anastasiia Malysheva (6), Yana Zavala (3), Svitlana Sopocheva (L) - starting line-up; Tetiana Rotar (L), Diana Kryva (4), Liliia Vabishchevych (3), Oleksandra Kalanchuk (1), Anastasiia Lozynska (0), Vladymyra Pylypenko (1).
"Halychanka-ZUNU": Anastasiia Liakh (2), Oleksandra Osypenko (8), Diana Holod (1), Liliia Popovych (4), Vitalina Kimak (5), Vladyslava Hubenko (8), Sofiia Samusenko (L) - starting line-up; Oleksandra Ovcharenko (0), Dariia Stepura (0), Anastasiia Dzhyma (2).
The final game day of the 8th round of the Super League-Dmart began with a match between "Dobrodia-Meduniversitet-ShVSM" from Vinnytsia and "Halychanka-ZUNU" from Ternopil. Only "Dobrodiy" had significant tournament motivation before this match. The team from Vinnytsia remains the potential leader of the championship, but in order to return to the top of the tournament table, they had to take the first step today in the form of a victory over "Halychanka". As for the Ternopil club, they left a very pleasant impression in its previous match against Balta. According to its results, the Ternopil club could add more than one point to the standings.
In the debut of today's match, the players of "Halychanka" could not have any complaints either, although "Dobrodiy" mainly led the score. In the second half of the opening set, Yuliia Yakusheva's team seemed to pull away from the opponent, but allowed them to first equalize the score (15:15) and then take the lead (17:16). At that moment, the team from Vinnytsia organized an impressive 9:0 run, which decided the fate of the set.
In the second set, even before its middle part, the favorite of the match organized a handicap of "+6" (11:5). At that moment, the players of "Halychanka" had problems both in reception and in serving, which did not go anywhere in the future. In the second half of the set, the players from Vinnytsia confidently controlled the game and won the second set in a row without any problems - 25:18.
"Dobrodiy" also started the third set very strongly - 5:0, 8:2. The team from Vinnytsia won the first half of the set with a difference of 8 points (13:5), after which they confidently dominated and brought the set to a well-deserved victory.
This success allowed "Dobrody" to score 42 points in the championship, two points less than "Alanta". By the way, the club from Dnipro played one match more. 9 points remained in the assets of "Halychanka-ZUNU".