"Dobrodiy" became the first finalist of the Super League-Dmart
16.03.2023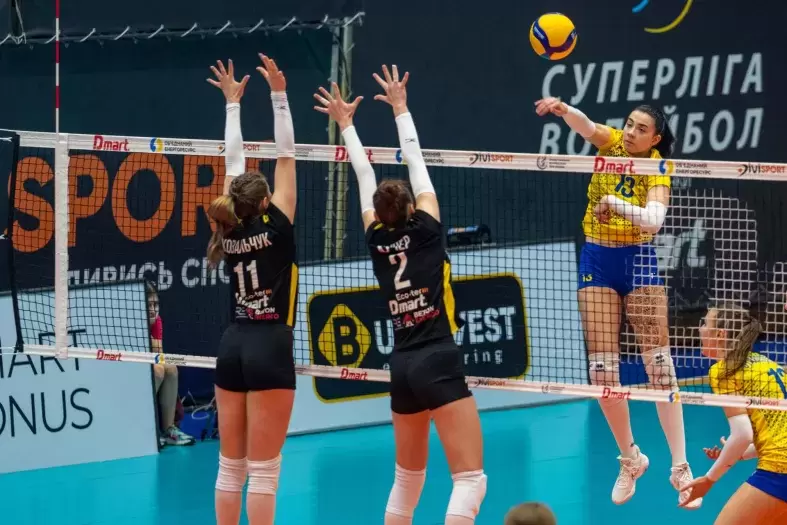 Women's Super League-Dmart 2022/23
1/2 finals. 2nd match in the series
Chernivtsi Arena "PVLU". March 16, 2023
National team of Ukraine U-17 – "Dobrodiy-Meduniversitet-ShVSM" 0-3 (21:25, 20:25, 17:25)
"Dobrodiy-Meduniversitet-ShVSM" did not postpone the decision to the third match and already today decided the fate of the first ticket to the final of the Super League-Dmart 2022/23. The players of Vinnytsia even managed to surpass their previous success against the national team U-17, without losing a single set.
The starting minutes of the meeting were in favor of Volodymyr Podkopaiev's team — 3:1. It is worth noting that both teams handled the ball well and tried to hold on to every rally. "Dobrodiy" quickly recovered and seized the initiative - 6:10. After that, the blue-yellows had little success in attacks, most of which they ended with a "pipe". 
Psychologically, the moment when Kateryna Frolova reacted to a ricochet off the net and left the ball in the game was difficult for the national team - the Vinnytsia players did finish the rally. Then the latter organized a rush and forced Podkopaiev to take a 30-second break — 12:19. During the time-out, the coach was able to set up his volleyball players to continue the fight - 20:22. But "Dobrodiy" had the last word - 21:25. 
The next set began with a surge of Yuliia Yakusheva's team — 0:4. Her players added in actions on the block, due to which it became more difficult for their opponents to earn points - 6:13. It was no longer possible for the blue-yellow team to win such a handicap. However, they still made the opponents a little nervous when they reduced the deficit to three points - 14:17. The U-17 team could not develop this success - 20:25.
It was not easy for the representatives of the Ukrainian national team to gather after previous failures - 5:11. However, the Vinnytsia team probably believed in their triumph too early and allowed their opponents to reduce the gap to a minimum - 11:12. Yakusheva decided to refresh her team's game by rotating the line-up. In particular, instead of Anastasiia Malysheva, Anna Lyzanets appeared on the court. The change of the setter went in favor of "Dobrody", who led the set to victory - 17:25.
"Dobrodiy-Meduniversitet-ShVSM": Kovalchuk (10), Kucher (4), Dehtiarova (7), Yakusheva (17), Malysheva (2), Frolova (8), Rotar (l) — starting line-up: Kryva (1), Zavala (1), Vabishchevych, Lyzanets, Sopocheva (l) — were substitutes.
The national team of Ukraine U-17: Makarova (5), Tverda (2), Herasymchuk (5), Hrytsyk (11), Starostenko (11), Kravchenko (9), Prokopova (l) — starting line-up; Zharkova (1), Nedilko, Peknych — were substitutes.